2021 MN Broadband Day Two: Getting it Done: Advocacy and Action
Getting it Done: Advocacy and Action
A series of fast-moving presentations about efforts across Minnesota to improve access and adoption and advocate for broadband investment. Presentation and Discussion. Moderated by Bernadine Joselyn, Blandin Foundation
Minnesota Broadband: Land of Ten Thousand Connectivity Solutions
Ry Marcattilio-McCracken, Senior Researcher, Community Broadband Networks initiative, Institute for Local Self-Reliance, Mankato, MN
Workforce Movers in Rural Minnesota
Benjamin Winchester, Rural Sociology Educator, University of Minnesota Extension, St. Cloud, MN
Surveys, Data and Stories to Inform Policy and Investment
Ann Treacy, Treacy Information Services, St. Paul, MN with Ben Winchester
More on Accelerate!
Analysis of Accelerate Survey Results
East Central MN Broadband Stories Report (from the survey)
Partnership for ConnectedMN: A Community-Responsive, Public-Private Partnership
Anne Hoyt Taff, Associate Vice President of Community Impact, Saint Paul & Minnesota Foundation
Hussein Farah, Founder and Executive Director, New Visions Foundation, St. Paul, MN
---
---
Chat from session:
Advocacy & Action Panel
09:52:23 From  Mary Magnuson (she/her)  to  Everyone: Use that chat for questions!
09:59:21 From  Bill Coleman  to  Everyone: Are there regional variations in the "welcoming" atmosphere?
10:01:58 From  Scott Cole-Collectivity  to  Everyone: Awesome – thanks Ben!!
10:02:09 From  Benya Kraus  to  Everyone: Always breathless by Ben!
10:02:38 From  Ben Winchester  to  Everyone: No significant variation in welcoming
10:03:44 From  Mary Magnuson (she/her)  to  Everyone: CBR: Accelerate Program: https://blandinfoundation.org/programs/broadband/community-broadband-resources-accelerate/
10:04:36 From  Mary Magnuson (she/her)  to  Everyone: Analysis of Accelerate Survey Results: https://blandinfoundation.org/content/uploads/2021.07.07.-Up-to-Speed-Broadband-FINAL-report.pdf
10:05:11 From  Mary Magnuson (she/her)  to  Everyone: East Central MN Broadband Stories Report (from the survey): https://blandinfoundation.org/content/uploads/East-Central-MN-Broadband-Stories-Report-Oct-2021.pdf
10:13:02 From  Bill Coleman  to  Everyone: Visited my brother in the Michigan UP last weekend.  He was happy with his foxed wireless Internet because it generally worked.  I did a speed test and it was 5 Mb down, 2 Mb up.  I was surprised that it actually worked to stream Netflix but the picture quality was not great.  Watching live TV (sports), the stream regularly buffered.
10:13:42 From  Scott Cole-Collectivity  to  Everyone: Curious
10:14:24 From  Mary DeVany  to  Everyone: telehealth isn't on the list? or, was it just not high enough to reach the slide…?
10:14:36 From  Ida Rukavina  to  Everyone: not just cabins- people in northern MN would love to install Ring service or something similar for their rural homes. Heard about this often.
10:14:45 From  Scott Cole-Collectivity  to  Everyone: Bill, was the advertised speed the same as the tested speed?
10:15:20 From  Bill Coleman  to  Everyone: I did not ask that question Scott.
10:15:29 From  Scott Cole-Collectivity  to  Everyone: Thx 🙂
10:16:03 From  Mary Ann Van Cura  to  Everyone: great list: availability, affordability, speed, reliability
10:23:07 From  Hussein Farah  to  Everyone: ConnectedMN Website: www.connectedmn.us
10:32:34 From  Anne Hoyt Taff she/hers  to  Everyone: ConnectedMN.us/grantees1 is a list/interactive of the grantees to date
10:33:16 From  Scott Cole-Collectivity  to  Everyone: https://www.connectedmn.us/grantees1
10:41:31 From  Scott Cole-Collectivity  to  Everyone: Thank you Anne and Hussein!! Really well done 🙂
10:41:58 From  Anne Hoyt Taff she/hers  to  Everyone: Thanks to everyone for your leadership on connectivity issues! Makes a huge difference for MN families and students.
10:42:07 From  Benya Kraus  to  Everyone: Ditto! Thank you Anne and Hussein – what a rapid response, yet still held such a community informed approach. Thank you!
---
Chat on Starlink:
Starlink
10:16:18 From  Jim Yount  to  Everyone: I would like today's discussions to explore how full public release of Starlink relates to the broadband issues we've been talking about for years.  Very good internet is now available everywhere in MN with a decent view of the sky… as long as you can afford it.  Availability is effectively no longer an issue.  Equitability/affordability is now the major issue for access.   We still want to expand the fiber/cable to the home and ISP competition, but some funders and communities are now at least somewhat more likely to say "what's the point now that there's Starlink?"
10:17:05 From  Scott Cole-Collectivity  to  Everyone: once they're the full constellation the latency will be down to 10ms
10:17:06 From  Lezlie Sauter  to  Everyone: I signed up for Starlink 6 months ago and have yet to receive the equipment, so it's not truly accessible yet.
10:18:33 From  Jim Yount  to  Everyone: True they are still ramping up capacity and performance, but it's still a game changer and it's important to discuss how Starlink influences the internet access landscape.
10:23:42 From  Bill Coleman  to  Everyone: These are good questions around Starlink.  It is a tech marvel.  I have read about their actual full capacity to serve millions of rural customers.  Jim's question about affordability as a primary barrier is also interesting, especially as the feds fund the EBB program now with more direct consumer subsidy programs in the works.
10:28:25 From  Bill Coleman  to  Everyone: To clarify my comment above, I read that Starlink may be only able to serve a limited number of customers.
10:29:24 From  Bill Coleman  to  Everyone: https://www.techdirt.com/articles/20210510/08050146767/elon-musk-makes-it-clear-starlink-wont-have-capacity-to-disrupt-us-broadband.shtml
10:41:25 From  Jim Yount  to  Everyone: Thanks Bill, that article is an excellent discussion of the capacity limits of Starlink.  I entirely agree that the emergence of Starlink does not mean "problem solved".  I suspect you agree that it is nonetheless a game changer that merits further careful thought and analysis of its potential impacts on the broadband connectivity landscape.  Important to consider for medium and long-term planning.
10:45:58 From  Jim Yount  to  Everyone: If Starlink's capacity is only 1% of the US population it's impact on the underserved will nonetheless be dramatically larger for several reasons.  Starlink is mainly relevant not to the entire US population but rather to those who are underserved or very dissatisfied but still able to pay Starlink's rates.  They can serve much more that 1% of that smaller group to whom they are relevant.
10:51:39 From  Jim Yount  to  Everyone: It's also important to recognize that their capacity is spread fairly even across the landscape because their constellation of satellites is necessarily/wisely widely spread out.  If they are eventually able to serve 1 million households in the US, for example, those households must be fairly evenly spread out over the entire country.  This means that while they could only serve a tiny fraction of the population of Los Angeles they can serve a relatively large fraction of sparsely populated regions, likely rising to 100% in the most remote areas.
10:52:18 From  Mike Wimmer  to  Everyone: I'm a big believer in Starlink and believe that much like Fixed-Wireless it is a part of the solution. One concern I have about Starlink is that right now the process of setting up the service is not easy for many rural residents. If you are comfortable with technology it is relatively simple, but I could see older residents and those not comfortable with technology struggling to set it up. My hope is that once it exits beta testing, SpaceX allow for 3rd party installers similar to existing cable/internet to cover that gap.
10:56:10 From  Yvonne Cariveau  to  Everyone: A key for best speed and service is for each household to have options.  StarLink is one option, but landline availability and fixed wireless are other important ones needed not just for households but also for schools, businesses and farms in rural areas, so I don't see StarLink as THE answer to availability, but certainly part of the puzzle.
10:57:00 From  Lezlie Sauter  to  Everyone: I hopeful for Starlink and know a few families who it immensely helped during the pandemic. But I also know many families that hoped it would get them connected but have yet to receive their hardware (so they continue to use cellular hotspots or DSL).
10:57:11 From  Mike Wimmer  to  Everyone: But I think the technology behind Starlink is legitimate and will help cover the broadband gap, especially in the areas of the state/country where FTTP is unlikely to ever happen short of 100% subsidy. I'll be curious if Project Kuiper/Blue Origin is able to eventually offer some sort of service as well. They seem to be falling further behind SpaceX/Starlink everyday, but have a bottomless pit of cash to draw from (Bezos).
10:59:18 From  Mike Wimmer  to  Everyone: I think Starlink is boosting production of the dishes to meet demand. I suspect they are impacted (like all tech) by the chip shortages. I saw yesterday that even Apple is dropping iPhone production because they cannot get some of the chips that they need. If even Apple is struggling, I can only imagine more "niche" uses of chips like Starlink are in an even more difficult spot.
10:59:35 From  Jim Yount  to  Everyone: Actually, I am a 3rd party installer about to install my 3rd Starlink dish on Friday… All 3 of those are (no surprise) older folks not excited about climbing their roof or a tower even *if* they're comfortable with the tech, per se.  It's allowed, but it's entirely up to the end-user to find a contractor and it's not cheap.  I'm well aware that there are many folks in our county who have no fast options other than Starlink but can't or would greatly struggle to pay the upfront cost and monthly cost, never mind professional installation.  I'd rather they have excellent fiber to the home than pay me to put in Starlink.
11:00:40 From  Marc Johnson  to  Everyone: In the discussion about options, including satellite and fixed wireless, remember the comment that "upload speed is productivity."
11:03:49 From  Ben Winchester  to  Everyone: Agree. Download=consumption. Upload=Production, I always hit on the economic side of upstream – we want to participate as producers in the knowledge economy not just consume it.
11:05:59 From  Jim Yount  to  Everyone: I like how Yvonne expressed it: Starlink is not THE answer to availability but certainly is part of the puzzle.  What I'm advocating is a thoughtful, detailed discussion to explore that that puzzle piece really looks like and the details of how it fits into the overall puzzle.  I've spent a lot of time trying to expand my understanding of that bigger picture, with an eye on how to advise the stakeholders and decision makers in my community (and elsewhere).  But we're all smarter together.  I very definitely don't have all the answers!

I'd love to see a mini-conference on "how Starlink changes broadband", perhaps sponsored by the Blandin Foundation!
11:06:53 From  Jay Trusty  to  Everyone: Honestly, I think the largest disadvantage of the Starlink discussion is that it gives legislators an out when we approach them about resources to bring broadband to unserved areas.  They don't actually have to spend time learning the issues, they can just say Starlink makes the effort moot.
11:08:11 From  Bernadine Joselyn (she/her)  to  Everyone: Jay: I agree 100%
11:08:22 From  Lezlie Sauter  to  Everyone: Jay, you're absolutely correct. We've had people walk away from our community broadband work because they believe Starlink will fix it all.
11:09:39 From  Jim Yount  to  Everyone: I very strongly agree, Jay.  That's one of the likely negative impacts of Starlink that I'm quite concerned.  Lots of side effects that should be explored.  And responses devised, such as getting the message out that we still very much need to expand our terrestrial infrastructure.
11:10:01 From  Ben Winchester  to  Everyone: Yes Jay that is my primary concern.
11:11:33 From  Jim Yount  to  Everyone: Deciders, funders, community advocates, voters, etc. need to understand both the potential and limitations of Starlink.
11:34:34 From  Anne Brataas  to  Everyone: Just a note on Starlink science and tech: I'm a professional science writer and happen to be writing for NASA now, and what jumps out over and over to me is the lightly-regulated satellite scene and competition for slots by international players. This is immensely relevant to Starlink's ability to deliver broadband sustainably. Needs to discussed.
11:54:29 From  Scott Cole-Collectivity  to  Everyone: The projected Starlink latency will be down to 10ms in the full (post-beta) deployment
---
Info on Speakers…
Minnesota Broadband: Land of Ten Thousand Connectivity Solutions
Minnesota communities have found an array of creative, practical solutions to expanding fast, reliable, affordable, and locally accountable broadband access to tens of thousands of homes all across the state over the last decade. In this report, we revisit networks, cities, counties, and small Internet Service Providers to see how they've met and overcome challenges in an arena more friendly to the out-of-state monopoly providers. We're excited to talk about how evidence from around the state shows that citizens looking for better Internet access aren't limited to just one or two paths to success, and share those stories of local persistence, clear vision, and creative execution.
Ry Marcattilio-McCracken, Senior Researcher, Community Broadband Networks initiative, Institute for Local Self-Reliance (Mankato, MN). Ry writes about community networks of all shapes and sizes, in addition to undertaking long-term research projects on the benefits of broadband infrastructure investment to competition, telehealth interventions, economic development, community savings, and local resiliency. He has a PhD in American History from Oklahoma State University, with research emphases in the history of science, technology, and medicine. He tweets @galtonsbox.
Workforce Movers in Rural Minnesota
In 2019 the University of Minnesota conducted a study of newcomers to 20 rural counties across Minnesota. Hear about qualities of these newcomers and how communities have changed due to their migration with a focus on broadband satisfaction and telecommuting. This session will also advance a discussion about broadband as economic development in rural communities by differentiating between download consumption and upload production.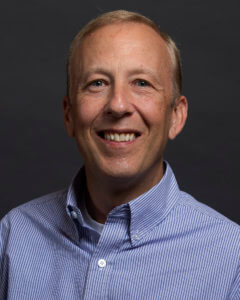 Benjamin Winchester, Rural Sociology Educator, University of Minnesota Extension.
Ben has been working both in and for small towns across the Midwest for over 25 years. He lives in St. Cloud, Minnesota with his wife and two children. Ben is trained as a Rural Sociologist and works as a Senior Research Fellow for the University of Minnesota Extension, Center for Community Vitality. He conducts applied research on economic, social, and demographic topics surrounding a theme of "rewriting the rural narrative" that are vital to rural America. He received the Rural Renewal Research Prize in 2021 for this work.
Surveys, Data and Stories to Inform Policy and Investment
Ann Treacy and Ben Winchester look into two reports based on surveys from communities in East Central MN working with Blandin Foundation through it's Community Broadband Resources: Accelerate! program to improve broadband.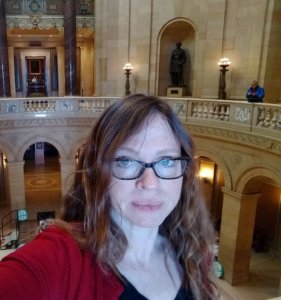 Ann Treacy, Treacy Information Services
Ann authors and manages the Blandin on Broadband blog. She has worked on broadband issues since 1994 – both supporting deployment of broadband and helping people and businesses better use broadband through digital inclusion training and online marketing consulting. Ann has a Master's degree in Library and Information Science as well as a Master's in Literature. You can learn more at www.byteoftheweek.com.
Partnership for ConnectedMN: A Community-Responsive, Public-Private Partnership
Partnership for ConnectedMN was established in May 2020 to address digital inequities surfacing in the height of the pandemic for K – 12 students. To date, ConnectedMN has provided almost $7M in grants to organizations providing devices, internet connectivity and digital support to  Minnesota students. The partnership has also established and continued to build a learning community for community leaders working in this area, culminating in a virtual roundtable with over 180 attendees in July 2021. Anne and Hussein will share how the partnership was established and focus on how the group continually adapted to provide community-informed relief and support for Minnesota students over the last year and a half.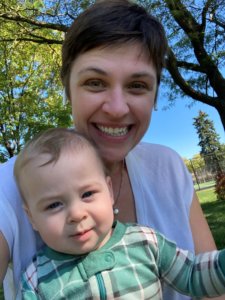 Anne Hoyt Taff, Associate Vice President of Community Impact, Saint Paul & Minnesota Foundation
Anne has worked at the Saint Paul & Minnesota Foundation since 2016. As associate vice president of community impact, Anne works to build community capacity through philanthropic and community initiatives that address a wide range of issues facing Minnesota. Anne is a facilitator and advocate, energized by building networks to respond to community need. Anne is grateful for the company and entertainment provided by her husband, a teacher in St. Paul, and two young children.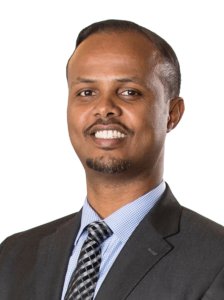 Hussein Farah, Founder and Executive Director, New Visions Foundation, St. Paul, MN
Hussein is the Founder and Executive Director of the New Vision Foundation, a nonprofit organization that engages, motivates, and inspires disadvantaged youth through coding and digital literacy classes. A social entrepreneur and a strategic business developer, Farah has extensive experience leading local, national and global efforts to create community-centered, asset-based solutions that advance community economic development and social justice. He co-founded the African Development Center, a nonprofit that provides guidance and financial success to African immigrants in Minnesota, and has received a number of local, national and international awards recognizing his vision, leadership and community contributions.  Farah is passionate about increasing the participation of minority communities in the high-tech industry as a means of solving racial income disparities in Minnesota. He is a 2018 Bush Fellow at the Bush Foundation, and a 2017/2018 Public Policy Fellow at the University of Minnesota's Humphrey School of Public Affairs.
Moderator: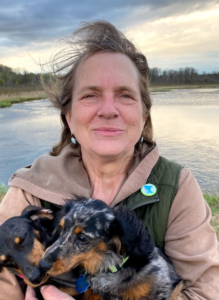 Bernadine Joselyn has served as director of Blandin Foundation's Public Policy and Engagement program since 2001. Here she leads efforts to facilitate the building of knowledge and catalyze community action around issues and opportunities that align with the Foundation's mission of strengthening rural Minnesota communities, especially the Grand Rapids area.
Beginning in 2003 she has led the foundation's broadband programming in rural communities across the state. She represents rural communities on the Governor's Broadband Task Force.
A native of Minnesota, Bernadine has a master's degree in international affairs and a certificate in advanced Soviet studies from Columbia University. Bernadine spent the first 15 years of her professional life in Soviet (and then post-Soviet) Affairs. She served seven years as diplomat with the U.S. Department of State, where —  after an initial tour in New Delhi, India — she was assigned to Moscow, Russia, and Washington, D.C., focused on the U.S.-Soviet/Russian relationship. After the collapse of the Soviet Union Bernadine left the diplomatic corps to work on international academic and cultural exchange programs with the International Research & Exchanges Board (IREX) and subsequently the Eurasia Foundation, where she oversaw a $5 million annual grant program.
In 2000 Bernadine returned to Minnesota to complete a second master's degree in public policy at the University of Minnesota's Humphrey Institute.